Venetian Mask Niagara of Shamal
Thank you Lesya Motsna fot this adorable glue stick!
Imported fromm Ukraine
(Exotic short hair, brown patched spotted tabby, carry chocolate, dilute, pointed)
Anoushka Baby Beluga of Shamal
Many thanks to my dear friend Brigitte Pouliot for that magnificient little persian.
There is no doubt she'll contribute to improove my program!
CH, BW Caleb-Cats MyT Crystal of Shamal
Thank you Brian and Edward for this mighty gentle girl!
Imported from USA
(Exotic long hair, brown patched tabby and white, carry chocolate and dilute)
Shamal Tresure Chest
Voici le fille de Bess et Crystal, une Foldex bien costaude, à l'image de ses deux parents!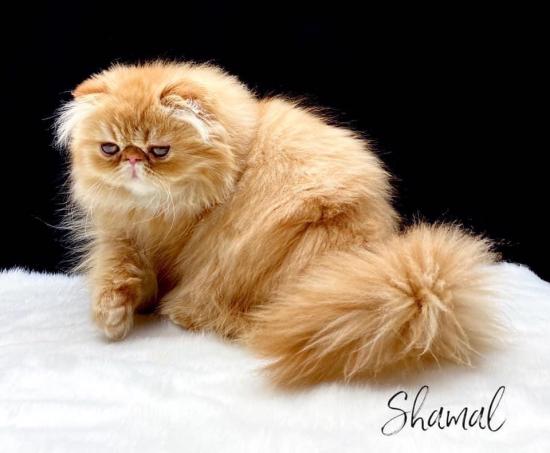 CH, BW Heartn'Soul Black Pearl of Shamal
Pearl deserved the title of best non pointed himalayan in 2018 and 8th best kitten in Quebec.
Thank you Caintlin for thi little princess which name really fits her!
(Non-pointed Himalayan, carry chocolate)
Shamal Dark Snow
This little darling is the daughter of Pearl and Dexter. She's a chcolate carrier!
Shamal Precious Gem
This little baby is the daughter of Pearl and Rhum rhum.
She's also a chocolate carrier!